It has been a week since Windows Live Messenger 2010 Beta (wave 4, 15.3.2804.0607) released to the public as a preview of what is expected to be Windows Live Messenger 2011 once it comes out of beta. You can download the new Messenger as part of the Windows Live Essentials beta. I have been using it heavily, here are my thoughts.
Lack of display names
Ever since I started using Messenger you were able to set your name to whatever you like straight from the application. I won't lie, in the past that led to annoying names popping up in people's contact lists. To prevent long names from cluttering up the conversation window Microsoft added personal messages to MSN years ago. In the years after the introduction of personal messages more steps were slowly added to change your display name, encouraging people to set a simple display name and use the personal message for everything else.
With the introduction of wave 4 the Messenger team took simplifying names even further, maybe a step too far? Messenger 2010 beta doesn't allow you to set your display name from the application at all. Instead your real name is used, which you filled in when you created your Hotmail or Live account. Only buried in the More options dialog you'll find the Edit Name button which will take you to the place to change your Windows Live Profile name.

Agreed, the contact list does look cleaner when everybody would use their real name. But it raises some questions.
Why is Messenger

forcing

me to use my real name? Just because I chat with people doesn't mean I want them to know my real name. I chat with strangers from time to time, so do teenagers who are more vulnerable.
What about the people who filled in their real name under the impression those details would never be published?
What about people who filled in bogus (sometimes embarrassing) names which will now start showing up to their Messenger contacts?
Why can my contacts set a nickname for me (right click on the name in Messenger -> Edit contact -> Nickname), but I can't set my own nickname?
Some of my contacts are still seeing my real name as I set it months ago. The updated real name won't show up in their contact list while they didn't set a custom nickname for me.
When I try to change my name and leave my Last Name blank it will tell me: Please enter your last name – don't worry, you choose who gets to see it. Ironically there is no privacy control to hide my last name anywhere. This used to be the case in the past, but since the Windows Live privacy controls were "simplified" it is not possible anymore to make your last name private. Why? This is a big decrease in privacy and users aren't clearly informed about this.

What could be done?
Encouraging people to use their real name is okay, but don't force them. Additionally to the first and last name, add a nickname field to profiles too which users can fill in so their nickname shows to their contacts. If people leave their nickname field empty the real name can still be shown in Messenger.
And most important, give the users their privacy controls back over their real name. A name is personal information; it can't be intentional to publicly show personal information without a prior warning as a result of simplifying your privacy controls. This really isn't a Messenger issue; it is caused by the Live web service, but too big of a privacy concern to ignore.
Appear offline is the new block?
The option to block contacts disappeared from the Messenger 2010 beta. At first sight it seems Appear Offline will be replacing the block function, because you can't talk to people when you appear offline to them. You can now also appear offline to individuals or categories instead of just everyone at once. But the idea of appearing offline being the new block seems flawed on further inspection:
You can't send messages to people to which you appear offline. But you still receive messages from those same people. If I still receive messages from people to which I appear offline, how do I truly block them from messaging me? Except from permanently deleting them from my contact list I don't see any option.
Let's assume receiving messages from people to which I appear offline is a bug. If Appear Offline is truly supposed to replace block, why is it still being called Appear Offline and not Block? Why would anyone still want to appear offline to everyone (block everyone)?
Appear offline is reverted after you sign out, which isn't what you would expect when it is really supposed to replace blocking.
Even when you want to send a quick message to someone who is genuinely offline you still have to appear online to them first. This seems an unnecessary extra step.
When you appear offline to just a single person the status indicator on top of the contact list will already show you as appear offline, which makes it look like you are appearing offline to everyone (or at least the majority) on your list.
What could be done?
Appear offline and block each had their own purpose. The way it is implemented in the current beta is a little bit of both, which led to breaking both old features. It isn't possible to truly block someone, and it isn't possible to use Messenger normally when appearing offline either. Being able to appear offline to individuals or categories is nice when it behaves like appear offline always did. When it behaves the way it does now it doesn't really add any new functionality and just confuses users. If appearing offline to individuals and categories isn't possible like how appear offline worked in wave 3, then don't add it at all and bring back the real block function.
Huge advertisements
Ever since the first wave 4 screenshots leaked people have been complaining about the huge advertisements they shown. When I installed the beta I was happy to see regular ads like we are used to from wave 3. But the next morning when I signed in again those decent sized ads were replaced by the huge ads we saw in early screenshots. It seems both formats are being tested simultaneously.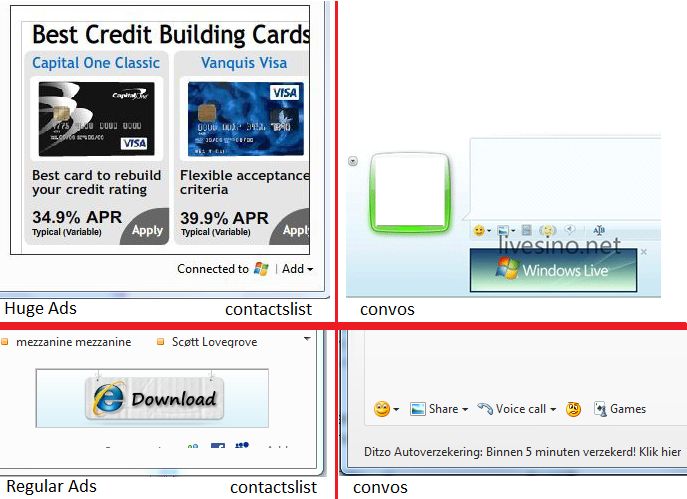 If you click on the X on the big conversation window ad it will return to a regular text link ad. But the next time you open a new conversation window it will be a big graphical ad again.
The square ad is only there in full view, not in compact view.
If you see a square ad in full view, when you make the window smaller (in height) it will at some point return to a regular size.
I could get used to the square ad in full view, as long as it will never appear in compact view. It would mostly be blank space in full view otherwise, although I would rather collapse the right panel completely. However, the big ad in conversation windows feels very out of place.
What could be done?
I hope the big ad on the conversation windows will never make it to the final build. I understand the need for revenue, but at what cost? The graphical ad wastes a lot of space, it just doesn't fit from a GUI point of view. This is an annoyance which will prevent some users from using Live Messenger at all. Having the X there to close this kind of ad is not a solution, especially when you make people do it every time they open a conversation window.
Smaller issues and bugs
These are minor annoyances or errors which you would expect from a beta. They may already be fixed in the newer builds being tested internally by Microsoft.
Redirecting links should be optional
You won't notice it with the naked eye as long as you don't click suspicious links, but every link you click on in a Messenger conversation is sent back to Microsoft's servers. Whether the link looks suspicious or not is irrelevant. When someone sends you a link in a Messenger conversation (let's say http://example.com) it will look like a regular hyperlink as always. However, once you click on the link you won't be taken to http://example.com directly, instead Messenger will open the following URL in your browser: http://rdir.us/?l=http%3a%2f%2fexample.com&h=[HashBasedOnLink?]&p=1&u=[HashBasedOnUser?]. This is done without you seeing anything about it on the screen, only when the link looks suspicious a warning is shown and I suspect when the site is really known to be malicious a different warning will be shown.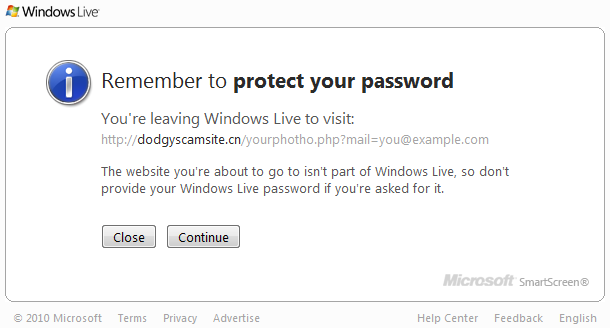 If Microsoft thinks the link is clean you will be taken to the link you originally clicked on within 1 or 2 seconds and the only way to notice the redirection is using some kind of package sniffing. Rafael Rivera wrote an interesting article on this with more information: Live Messenger and the "link harvesting black box in the sky".
As for privacy, you can make a valid point about Microsoft being able to track every link you click. But keep in mind all your conversations are already passed through Microsoft's Messenger servers. Microsoft being able to track all links sent through their network is nothing new, but being able to track which of those links you actually click is. Since all links now pass through their service they are in full control of what you click. What is preventing Microsoft from injecting a frame with an advertisement? Having the redirection will also make every link you click from Messenger load (slightly) slower, or not at all should the service go down. A feature to battle malware and viruses from spreading through Messenger is much needed, but it should be possible to opt-out of it. After all, all modern browsers already have their own malware/phishing site protection build in.
Installer unstable
The installer crashed twice on my main machine and once on a virtual machine. On the VM it happened on the first screen where you can choose which apps to install, while I wasn't doing anything with the installer the moment it crashed. The machine was pretty much idle. I can't say much else about this. Wouldn't know how to replicate it either other than install and see if it crashes. Crash logs were sent with the error reporting tool though, hope it helps.
Toolbars waste space by writing everything out
Messenger 2010 got rid of the top toolbar in conversation windows. The only toolbar is on the bottom under the input box, so there is less space to make everything fit. Some options are squeezed together in a single item (like emoticons and winks for example). Moving all the options from one to two bars is quite impressive, but unless you set your conversation windows very wide you will never see all available options. You can press the >> button to see the remaining options, but that's not convenient. And sure, I don't have to see More options, Show the menu bar and Always on top all the time. But it would be nice if the text on the toolbar could resize appropriately to make more items visible. Appear offline to this person is just very long for a single item. Voice Clip and Change Font could just only show the icon when there isn't much space available.
Social mode (full view) needs a smaller text size
Messenger's social mode is more appealing than I thought it would be. Still won't be using it that much as it is just not my kind of thing, but it's certainly not bad. The big annoyance though is the font size. For some reason unclear to me the text in social mode is larger and uses more white space than anything else in Messenger (or any other application for that matter). There is a reason why Windows has a default text size for various GUI elements. It would be a mess when every developer would just pick a size they happen to like. I am using a 30 inch screen and am still compelled to run social mode in full screen so I don't have to scroll after every three messages. At the least an option which makes the status update texts twice as small (and resizes everything else accordingly) would be nice.
While we're on the topic of social mode, being able to collapse the right side with the contacts, just like collapsing the display pictures in conversation windows, would be a great.
No good indication of more people in the tab bar
When you have a lot of open conversations there is no good indication of more conversations being hidden on the tab bar. See the screenshot below. At first you would think you're seeing all the open conversations, unless you press the little down arrow on the right, or make the conversation window wider.

True, it does say (5) to indicate how many conversations are open in total, but how many people will really read that number all the time? Arrows left and right of the toolbar just like IE does when you open a lot of tabs would be a better indication.
Phantom invites are still here
Did you ever receive a friend invite from someone (most likely a spam bot) which you denied, but the next time you signed in to Messenger there was still a yellow bar on your contact list telling you there is 1 invitation waiting for you, only to find out you have no invitations right now once you click it? Right, so have many others. And this bug is still there in Messenger 2010. It's hard to tell if this is the fault of Messenger or the Web services. Either way, please Microsoft can we get this fixed?
Graphical glitches when resizing
Resizing both the contact list and conversation windows produces graphical glitches. This doesn't happen always, but when it does it is pretty annoying.


Offline contacts show in online groups
I have Show offline contacts in a separate category enabled, yet sometimes a contact who is offline still appears in a category among online contacts. This doesn't happen often, I only noticed it twice. In both cases the contact was online at some point, but when he/she signed out the status icon changed, but the contact didn't move to the Offline category.
Offline Facebook and MySpace contacts not filtered
Even when you enable Show offline contacts in a separate category it will still show offline Facebook and MySpace contacts amongst the online ones. When you have a lot of Facebook (or Myspace, 2004 called) contacts you will end up scrolling a lot just to find those few online ones.
It's not all bad though
After a huge load of text on what I don't like it may seem like it, but I'm not pessimistic about the new Messenger. I really like the tabs, the way my Facebook messages show up automatically as personal message, improvements to the Windows 7 taskbar preview. Social mode looks like it is able to keep people using an IM client in the days where everything seems to be focused on social platforms. I like how Facebook comments are posted back to Facebook too.
Messenger changed in a big way on how it interacts with social platforms, which is necessary to stay relevant long term. All together this isn't bad for a first public beta build. Keep in mind it is beta for a reason, not only because it will break the machine of popular add-on developers, but also because the Messenger team is open for feedback. But if you don't make yourself heard, don't expect things to change magically. Report bugs and provide feedback. This is the main reason for this huge post, everything is duplicated to those places in one way or the other, in Messenger team bite sized chunks. Posting feedback does work.